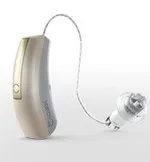 Passion
Passion, one of the world's smallest hearing aids, proves that advanced technology can also look good. Ultra-small, incredibly comfortable to wear, stylish and discreet - Passion is all these.
How do we do this? Well, the receiver, or loudspeaker, in Passion is placed in the ear canal itself with the rest of the hearing aid behind the ear. In that way we can radically reduce the size while at the same time providing you with everything you'd expect from a Widex hearing aid.
For example, you can enjoy our harmonic sound program, Zen, which plays a choice of soothing tones and chimes to help you relax.
And the unique feedback cancelling system in Passion helps minimise annoying whistling.
Schedule an appointment for a comprehensive hearing evaluation.
---
Mind
Mind features a dedicated relaxation and tone program. We call it Zen and it produces a range of random, harmonic tones that can help you relax. And if you suffer from tinnitus, there is the option of a special Zen program to help you manage tinnitus.
High-pitched sounds, such as birdsong and children's voices, are often the first to disappear with high frequency hearing loss. mind shifts such sounds automatically down into your audible range so you can hear them again.
Mind can take into account where you are listening and your type of hearing loss to cut through the noise and make sure you can hear speech.
Sometimes it can be difficult to remember how to change settings or programs on your hearing aid. mind uses actual recorded speech to talk you through the hearing aid's functions and makes it easier for you to control.
Schedule an appointment for a comprehensive hearing evaluation.
---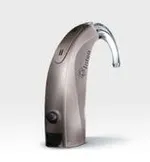 Inteo
The Inteo by Widex is the most significant advancement hearing aid technology. Inteo, The World's Smartest Hearing Aid,™ achieves the highest precision and accuracy in sound reproduction to help you hear better in a variety of listening situations.
Inteo's High Definition Locator System (which is one of the most important breakthroughs in hearing aid design) is a 15-channel fully adaptive directional microphone system that maximizes your listening comfort and speech understanding ability in quiet and noisy listening environments. This feature is available in Inteo Canal, Half Concha, Full Custom and Behind-The-Ear models.
Schedule an appointment for a comprehensive hearing evaluation.
---
M-Series
m-Series is an important advancement in the hearing aid industry! Widex's finest lines of Integrated Signal Processing (ISP) hearing instruments are now available in a micro size! In fact, the BTE models of Inteo, Aikia, and Flash ISP hearing instruments have been engineered down to the smallest mini-BTE size that Widex has ever offered. With this transformation, you can now enjoy high-quality natural sound in new discreet and elegant hearing instruments.
All m-Series models are based on unique Integrated Signal Processing™ (ISP) – the greatest breakthrough technology ever put inside a hearing instrument. And Widex is the only hearing instrument manufacturer able to offer ISP.
Schedule an appointment for a comprehensive hearing evaluation.
---
Aikia
AIKIA offers a harmonious balance of price, user lifestyle considerations and sophisticated technology of the Widex renowned high quality. ISP in the AIKIA series
There are three cornerstones that form the basis for ISP in the AIKIA series - coordinated by the Dynamic Integrator:
Detailed Sound Analysis: makes a precise and detailed analysis of the client's listening environments. It is only through this exact analysis that the sound can be optimally processed to match the user's specific profile.
Flexible Sound Processing: consists of several unique features that help ensure improved hearing in noise. The central purpose is to keep as much of the speech signal above threshold and as much of the noise signal below threshold sa possible.
Automatic System Optimiser: consists of a series of unique features that allow you to offer your client excellent performance. No system is allowed to fail or come out of alignment.
Schedule an appointment for a comprehensive hearing evaluation.
---
Flash
Comfortable and automatic Flash hearing instruments incorporate Integrated Signal Processing (ISP) — The most exciting, most promising and most capable innovation to hit the hearing aid industry in years!
Even if you think you only have a mild hearing loss, you should take the time and actually hear how lower-cost Flash hearing aids could be just right for you.
Flash – like all Widex Integrated Signal Processing hearing instruments - contains a feature known as The Dynamic Integrator. This is like having a powerful computer managing your hearing needs. However, the Integrator also offers an additional level of security and performance that is like having a second computer within the Flash computer chip, constantly monitoring the first one, and making adjustments to ensure that you will receive the maximum benefit.
Schedule an appointment for a comprehensive hearing evaluation.
---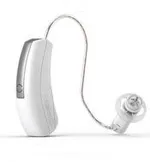 Real
The Widex REAL™ series is the first hearing aid in the basic segment based on the well known ISP technology platform. Widex REAL makes ISP available at all levels of the Widex hearing aids range. The Widex REAL™ series is aimed at clients who expect ease of use and quality sound. With Widex REAL they get the optimum combination of core audiological benefits - with a focus on the most important user needs: speech intelligibility and listening comfort. The benefits of REAL:
Micro size m, the most discreet and smallest BTE in this Widex segment
ISP in three channels
EDRC, with a very low compression kneepoint, makes audibility of soft sounds possible. The three compressors in Widex REAL also ensure comfort in loud sounds
Locator, which adjusts microphone sensitivity to improve the overall signal-to-noise ratio
Widex Classic noise reduction and the Feedback Canceller
Extremely fast and easy fitting
Schedule an appointment for a comprehensive hearing evaluation.
---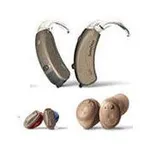 Diva
Senso Diva is our newest and most exclusive series of 100% digital, fully automatic hearing aids, which continuously adjust to the user's listening environment.
This is done smoothly without audible and abrupt changes of the volume.
The Senso Diva series hearing aids are designed to help nearly every type of hearing loss. New and unique features make it more comfortable to wear the hearing aid all day long.
Schedule an appointment for a comprehensive hearing evaluation.
---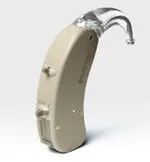 Bravissimo
Optimised fine tuning
Fine tuning is conducted in three channels, for optimum fitting accuracy. Fine tuning guides are available in the Compass™ fitting software, to assist professionals in taking clients' individual and more subjective preferences into account.
Improved sound quality and performance
Increased focus has been placed on speech intelligibility by introducing optimised Wide Dynamic Range Compression.
Automatic Feedback Manager (optional)
The Automatic Feedback Manager with Feedback Verificator manages acoustic feedback in three channels. It serves to assess the earmould/shell quality and ensures that the required amplification of normal speech signals is provided and the risk of feedback whistling is reduced. The feedback test is made optional.
Schedule an appointment for a comprehensive hearing evaluation.
---
Remote
In recent years, the focus of hearing aid development has been on digital hearing aids that respond automatically to the listening environment. In these instruments, volume and signal processing are continually optimized without intervention from the user.
While today's top Widex hearing instruments are still fully automatic, they can also offer virtually unlimited customization opportunities to specifically match your individual lifestyle. Those who prefer the option of a remote control should be very comfortable with this highly advanced technology and can benefit from the personalized programs that they themselves control.
Therefore, with new opportunities for user satisfaction through a selection of highly complex listening programs, you now have a helpful choice in terms of remote control options - the Widex RC4 and RC3.
Schedule an appointment for a comprehensive hearing evaluation.
---